QuickBooks Integration
Jump to navigation
Jump to search
The QuickBooks Integrated Module is available from the QuickBooks user interface. It is located under File → HandiFox

QuickBooks Integration Module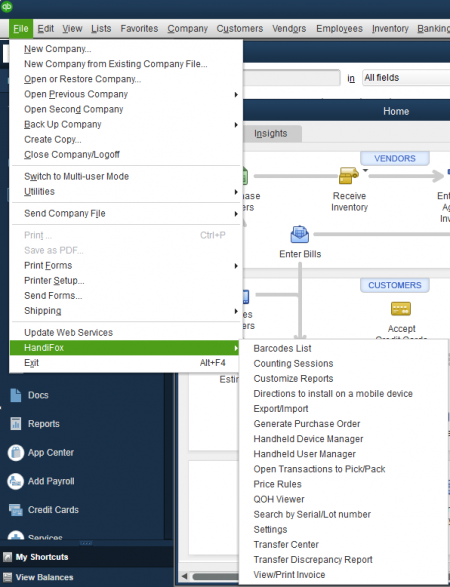 The QuickBooks Integration Module consists of several windows:

Barcodes List allows viewing, generating, editing, and printing barcodes for inventory items.
Counting Sessions allows viewing, creating, and voiding counting sessions created on handheld devices.
Customize Reports allows viewing and editing report templates.
Directions to install on a mobile device opens an HTML file with the installation instruction for the mobile device. Links to download the mobile application are included in this file.
Export\Import allows exporting and importing specific information from\to the system.
Generate Purchase Order automatically generates purchase orders based on item's sales information.
Handheld Device Manager allows managing the list of registered handheld devices.
Handheld User Manager allows creating, editing, and removing handheld users.
Open Transactions to Pick/Pack allows closing sales orders, showing whether they can be fulfilled based on the current Quantity on Hand and packing invoices.
Price Rules allows setting price rules, activating and making them inactive, setting volume discounts for items, and applying rules to sales orders and invoices.
QOH Viewer allows viewing and adjusting the quantity on hand of any item at any location.
Search by Serial/Lot number allows looking for transactions by serial/lot number and reviewing them in detail.
Settings allows configuring HandiFox's settings.
Transfer Center allows doing different operations with transfers like creating, receiving, and editing.
Transfer Discrepancy Report allows checking discrepancy for transfers that were uploaded to QB.
View/Print Invoice allows viewing and printing invoices with customer signature (is disabled if the Sales function is not allowed in the license).
Synchronization
Synchronization is a crucial process within the HandiFox system. It allows having the most recent information both in HandiFox and QuickBooks (e.g. quantity on hand (QOH) for inventory items). Some data can be changed in the QuickBooks Integrated Module (e.g. when Transfer from the Main location is generated) and the handheld synchronization is needed for the handheld device to pick up the new data. Synchronization is very important for inventory counting - it allows seeing the actual item's QOH in QuickBooks and the manager can make decisions for applying counting sessions based on the most recent information. Synchronization is required to pick up the transactions created in QuickBooks on the handheld device.

If you need to perform some actions and transactions in QuickBooks, but you don't want it to impact information on the handheld, you can stop the QuickBooks connection. Then QuickBooks Integrated Module under File → HandiFox will not have the updated information from QuickBooks neither will the handheld devices. But as soon as you start connection again, all data will be downloaded to the QuickBooks Integrated Module and then after the handheld synchronization, it will appear on your handheld devices. Stopping the QuickBooks connection does not stop the handheld connection. Handhelds will still be able to synchronize with HandiFox Desktop Module and update data based on the current data from the HandiFox Desktop Module.

If you want to work only within QuickBooks and HandiFox Desktop (QuickBooks Integrated Module), you can stop the handheld connection and handhelds will not be able to synchronize. The synchronization between QuickBooks and HandiFox Desktop Module is performed automatically when the QuickBooks connection is started.